How Do I Use Super Salve for Healing an Anal Fissure?
Here is an example of what our customers are saying about using
Super Salve
for healing any irritations on the anus, including fissures that doctors say need surgery:
CLIENT TESTIMONIAL

"I have been using this product for only a little over a week now and I can feel the difference in the healing process. I have an anal fissure in the perineal area on the outside which itches and is very painful. I have tried creams and cryotherapy (cold therapy), and to my frustration, none of them worked. But I have tried this wonderful product and it has made an immediate difference!

I walk 40 minutes a day and when my butt rubs together on the fissure, it burns. So, I apply some Super Salve before I go out and it gives me immediate relief! I can actually make it back home without being in pain! I will be purchasing more of this.

Also I use a long colon tube and when inserting and pulling it out, it rubs on the fissure, irritating it. So I apply Super Salve for every insertion and it relieves the pain. I was worried I would have to give up enemas because of using colon tubes, but now I don't have to worry about it. I know I can continue on with the Super Salve. What a great product!"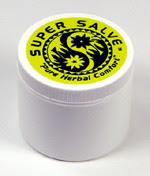 Instructions to use Super Salve to heal a fissure:
Liberally lubricate the anal area, both externally and along the inner rim of the anal sphincter. It applies easily. Be gentle. You don't need to use a lot, but you can if you find that it is what works best for you. And you don't need to apply the salve inside the anal cavity.
Apply the salve 2-6 times daily. The art of application frequency depends on the fissure and your activity level. Experiment.
You will need to wash your hands well after application. Our
goat milk soaps
work well for the hand washing. If needed, use a non-latex glove.
Take a sitz bath (a bath in which you sit in therapeutic water only up to the hips) each day to completely clean the anal area. In this water, add a premixed solution of 1/2 to 1 cup of
therapeutic salt
with 10-20 drops of Optimal Health Network's
Anal Fissure Essential Oil Blend
. Again, use our goat milk soap to wash the anal area. Soak in this tub for 10-30 minutes.
Labels: anal fissure, Celtic Sea Salt, essential oils, goat milk soap, Super Salve